34 Years of Playing DIRTY!
When is OOzeball?
Our most recent tournament, Mud Wars: The OOze Awakens, was held on Saturday, April 23, 2016 at the North Campus Field. Save the date: OOzeball will return on Saturday, April 22, 2017.
What is OOzeball?
OOzeball is a single-elimination volleyball tournament played in several inches of glorious mud! It is one of the most popular events held on campus, hosting up to 400 teams and drawing over 3,000 students and spectators.
The UConn Student Alumni Association started OOzeball in 1984, and it is an annual tradition that has since been adapted at many colleges and universities across the country! In 2004, OOzeball celebrated its 21st year at UConn and was chosen by Sports Illustrated as the "Best Mud Volleyball" in the country in the "Best of College Sports" issue. In addition to this, Sports Illustrated: On Campus voted OOzeball number 33 on its list of the "Top 100 Things To Do Before You Graduate: No Matter The Cost."
Frequently Asked Questions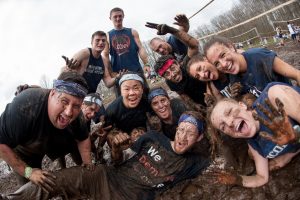 Where and how do I register?
Stay tuned for OOzeball 2017 details! Registration opened Tuesday, March 22, 2016 at 9 a.m. It closed on Monday, April 18 at 5 p.m. (or sooner if it fills up). You will need each player's name, email address, class year, and T-shirt size to register. We recommend registering early, as spots are limited and will fill up. Follow the Student Alumni Association on Facebook and Twitter (@UConnSAA) for updates. The registration link is posted here and on the main saa.rso.uconn.edu homepage.
Once you have registered for OOzeball, you will receive an email directing you to the final step of your team registration. This final step is to have every player on your team also register through IM Leagues. The team captain must register the team in IM Leagues within 48 hours of submitting the registration form, or your team may lose its spot in the tournament. The rest of your team's players must register in IM Leagues by Wednesday, April 20, 2016. Game times and results will only be available through IM Leagues.
Who can play?
Any current UConn student with a valid student ID is welcome and encouraged to play OOzeball. UConn staff and faculty are also welcome to play. Each team must have 6-8 players, with three males and three females on the court at all times.
How can I pay for OOzeball?
You must have a credit card/debit card to register online. If you are unable to pay by credit card, please contact Emily Johnson at emily.l.johnson@uconn.edu or call Jessica Sokol at 860.486.2607. Note that if you choose to pay by cash or check, your spot will not be reserved until your full payment is received at the Alumni Center (open weekdays from 8 a.m. – 5 p.m.). If you are paying by check, it is asked that only ONE check be submitted for the entire team. Please make checks payable to: UConn Foundation.
Why is OOzeball $20 per person?
In order to cover all of our expenses for OOzeball, we have to charge $20 per person. However, in addition to admittance to the tournament, your $20 gets you an official OOzeball T-shirt, free giveaways, and a chance at a tournament Grand Prize, Second Prize, and Third Prize. Also, if you register early, you can take advantage of our early-bird pricing of $16 per person!
What are the rules and regulations?

You can find the full OOzeball 2016 Rules and Regulations here.
Why does my team need three males and three females?
In response to a suggestion given to us many years ago, in order to keep the teams as fair as possible, we ask that all teams have a minimum of three males and three females on their team (and on the court) at all times. By enforcing this rule, we can try and make the tournament "match-ups" as fair as possible to all players and to be in compliance with Title IX. Keep in mind that you may sign up extra players as substitutes, but each person may only sub in for someone of the same gender. If you have any concerns about this policy, we'd be happy to discuss with you. Please contact Emily Johnson.
Once I register, can I make changes to my team?

After registration, the number of players on a team cannot be changed. However, in the event that a player becomes unavailable to participate in the tournament, you may make individual player substitutions within IM Leagues.
Why do we also have to register with IM Leagues?
The Student Alumni Association is partnering with UConn Recreation and several other organizations to host this event. UConn Rec has implemented an electronic bracketing system that is able to track each team, notify players of their playing times and court number, and structure the tournament as a whole. If each team member does not register on IM Leagues, they will not be able to receive these notifications and UConn Rec will not be able to include your team in the bracket. To easily access your team's information, please download the REC*IT app. For specific directions on creating or joining a team in IM Leagues, please refer to the users' guides.
How are starting times determined?
Once team registration is complete, teams are randomly assigned start times. Games begin at 9 a.m. and end at 6 p.m. and are assigned at 15 minute intervals.
How are court placements determined?
Court placements are determined in the same manner as starting times. We do not accept requests for teams to play each other; teams are assigned randomly.
Why are there restrictions on team names?
While all of us do enjoy your creativity and would love to be able to accept everything you come up with, this one goes beyond us. The winner of OOzeball is published not only in the Daily Campus, but also in many other university publications. In order to keep politically correct, we must screen and approve all names before they are placed on the official bracket. You will be informed after registration if your team name needs adjustment, and we apologize in advance for any inconvenience. Also, you will not be allowed to register a team name that has already been chosen. The system will prompt you to choose a new name until one is available.
What is the Captain's Meeting and why is it mandatory?
The Captain's Meeting is a mandatory meeting held the week of the tournament. This year's meeting will be held on Monday, April 18, 2016 at 7 p.m. in ITE C80. The captain of each team (or a replacement member) is required to attend this meeting. Please do not send more than one representative or we'll run out of space. At this meeting we will announce start times and court placements, discuss official rules for the day of the event, and answer any questions. Also, OOzeball is limited to the first 400 teams; if a representative from your team is not at the Captain's Meeting, your team automatically forfeits and will be replaced by a team on the waiting list. It may seem like a lot of slots, but consider the thousands of undergraduate and graduate students, staff, and faculty that may also want to play. If you have additional questions regarding the Captain's Meeting, please contact Emily Johnson.
How do I get involved with the planning of OOzeball?
There are several ways to get involved with the planning of OOzeball! The best way to make sure you're involved in every aspect of the tournament is to become a member of the Student Alumni Association, as we are the planning committee behind OOzeball. In addition to this, we are  looking for volunteers for mud-making on April 22 and the tournament on April 23. If you need community service hours for an organization, mud-making is an excellent way to earn them while having fun. Please contact Emily Johnson if you are interested.
Is lunch offered during the tournament?
Dining Services will provide a light luncheon for players with meal plans. Flex passes will not be accepted. We encourage you to bring snacks and a water bottle, and we'll have a hydration station set up to refill water bottles.
What is the prize for winning OOzeball?
The top three teams will receive the Grand Prize ($50 per player), Second Prize ($30 per player), and Third Prize ($20 per player). We will also be randomly handing out spirit prizes to teams and individual players.
Who are this year's official sponsors?
This year's official sponsors are the UConn Student Alumni Association, UConn Office of Alumni Relations, UConn Recreation, and Spring Weekend Committee. Please check back for additional sponsors.
Who is responsible for injuries and lost/stolen items?
Upon signing your official OOzeball Acknowledgement & Release, you agree to the fact that the Student Alumni Association, the UConn Foundation, UConn Recreation, and the University of Connecticut are not responsible for any injuries sustained during the OOzeball Tournament. You also agree to the fact that the Student Alumni Association, the UConn Foundation, UConn Recreation, and the University of Connecticut are not responsible for any lost or stolen items. Therefore, we encourage you to leave valuables at home and only bring what is necessary for admittance into the tournament. Also, make sure to wear sneakers and to bring your student ID, as it will be collected.
Contact Us
Emily Johnson, Student Alumni Association Vice President of Traditions
UConnSAA@gmail.com or 860.486.4232
Jessica Sokol, Student Alumni Association Advisor
jsokol@foundation.uconn.edu or 860.486.2607
Connect With Us Online